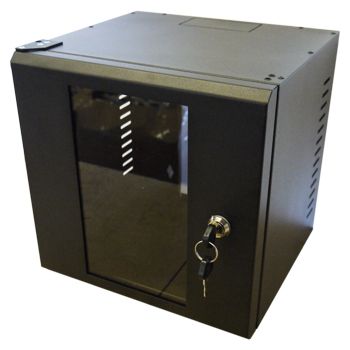 >
>
‹
>
>
6U SoHo 10 inch Mini Data Network Cabinet
6U SoHo 10 inch Mini Data Network Cabinet
6u SoHo 10 inch Mini Data Network Cabinet
Ref: AD6USOHO-CAB
Brand: Ad Tek Products
£66.95
£80.34

inc. VAT at 20%
3 in stock.
6u SoHo 10 inch Mini Data Network Cabinet
Compact design of the Mini Office Cabinet makes it the ideal housing for small network requirements allowing integration of voice data ISDN and internet connections in one neat unit. The cabinet has been designed to fit perfectly into both the office and home environment and has a 6u capacity.
The lockable steel door with perspex front enables easy patching from the front of the unit and cable access glands are situated in the top and bottom to assist installation. They also have added ventilation slots in both sides.
An extensive range of cabinet accessories are available including; shelves blank panels brush strip panels and cable tidy panels.
Specification:
Wall mounting with key holes on the rear.
Cable access from rear as well as top and bottom.
Door can be reveresed.
Side venting to allow air flow through cabinet.
Finish Black Fine Textured
Material Mild Steel
Width 300mm
Depth 275mm
Height 300mm
Door Steel with perspex front
Capacity 6u